Medicinas Complementarias: Mirko Beljanski
Once again, Pr. Mirko Beljanski's work has been acknowledged overseas! Today, it's in Spain in "La Revista de Medicinas Complementarias. Medicina Holística".
This time, "La Revista de Medicinas Complementarias. Medicina Holística", edited by the AMC (The Spanish Asociación de Medicinas Complementarias), has published one new article (n 84) on Dr. Beljanski's research.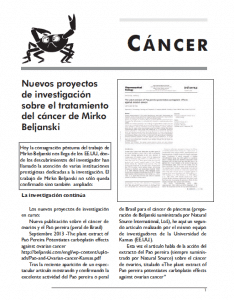 The very first sentences reveal the excitement of the Spanish scientific community. « Hoy la consagración póstuma de Mirko Beljanski nos llega de los EE.UU, donde los descubrimientos des investigador han llamado la atención. El trabajo de Mirko Beljanski no sólo queda confirmado sino también ampliado ».
Dont panic, here is the translation for non-Spanish speakers like myself:
"Today's posthumous consecration of Mirko Beljanski comes from the U.S., where discoveries have caught the interest of researchers. Dr. Mirko Beljanski's work is not only confirmed but also extended.
According to the AMC, Dr. Mirko Beljanski's research is "espectacular"! I believe no translation is need here…
This article mainly focus on the latest scientific publications from Kansas University "Inhibition of pancreatic cancer and potentiation of gemcitabine effects by the extract of Pao Pereira", Columbia University "Anti-prostate cancer activity of a B-carboline alkaloid enriched extract from Rauwolfia Vomitoria" and the article published on BioMed Central "Anti-cancer activity of extracts from Rauwolfia vomitoria and Pao Pereira". Moreover, these articles also discuss the life of Mirko Beljanski and the efforts of the Beljanski Foundation to spread the word about his research as well as the history of Natural Source International, the only authorized dealer of the Beljanski® Products.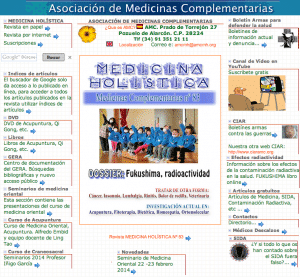 The Asociación de Medicinas Complementarias was founded in Madrid, Spain, in 1992. As a non-profit organization, the main aim of the AMC is to spread information about alternative medicine and the organization of activities related to it, as well as to improve the level of the professionals who practice it, or helping them to begin their training. The association mainly consists of health professionals, but it is open to anyone who wishes to collaborate or to take part in their activities. They communicate mainly through publications and online videos, but also by organizing conferences and events.
For more information about their activities, you may visit their website at http://www.amcmh.org/PagAMC/index.html

I would like to say MUCHAS GRACIAS to the AMC team for their excellent work ! I am always delighted to see new articles discussing my father's work around the world!