To your Health!
24,500 chemicals in bottled water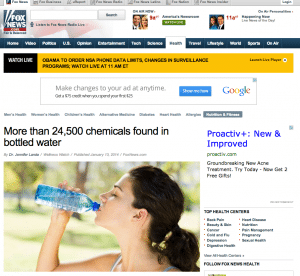 Prime time American TV is relaying the breaking news: "We have shown that antiestrogens and antiandrogens are present in the majority of bottled water."
Breaking news?
In fact, the study was published last summer (on August 28, 2013 in PLoS One), but it took a few months to shake up public opinion and get the attention it deserves. Researchers from Goethe University in Frankfort, Germany and from the German Federal Institute of Hydrology, teamed up to test 18 different bottled water products from around the world.
More than 24,500 different chemicals were found in the bottled waters, and Endocrine-Disrupting Chemicals (EDCs), which interfere with an organism's hormonal systems, are of  particular concern.
13 of the 18 bottled water products tested exhibited "significant" anti-estrogenic activity, while 16 of the 18 samples were found to inhibit the body's androgen receptors by an astounding 90 percent.
"This work is a 'tour de force' in identification of endocrine disruptors in packaged materials," says Bruce Blumberg from the University of California, Irvine, as quoted in Chemistry World. This type of analysis, he adds, "will be very important for our future understanding of what chemicals we are routinely exposed to and which of these pose hazards of being endocrine disruptors."
Let's hope that this new study will help address a long-standing issue.
In 2010, Medical News Today reported on a study that found that adults who had been exposed to EDCs prenatally may be at higher risk of breast cancer, after a study in mice revealed the compound could program a fetus for life; and a year ago (my post Beljanski's predictions and the BPA conspiracy! – January 29 2013), I already commented at length about the toxicity of plastic bottles, and how for years the FDA has wrestled with a long overdue ban of bisphenol-A (BPA), a common chemical used to make plastic bottles and linings of cans, from food-related plastics.
BPA and the phthalates belong to the EDC family: they mimic sex hormones and have been linked to increase risk of cancer, as well as cardiovascular and metabolic disorders.
BPA are not the only problem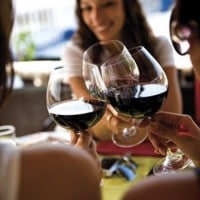 It would seem, however, that BPA isn't the only problem when it comes to chemicals leaking into the food supply. According to the new German study, DEHF – (di(2-ethylhexyl) fumarate), a plasticizer chemical that is used to make plastic bottles more flexible, was clearly identified in the tested water as the most consistent and obvious culprit causing anti-estrogenic activity. Amounts as little as 0.1 ounces of bottled water inhibited estrogenic activity by 60 percent and androgenic activity by 90 percent.  Tap water was faring better, a strong indication that he plastic container is to blame.
Scientists who dare thinking out of the box are often met with criticism and ostracized, before being recognized, most likely in fear of a political backlash, like the one experienced at the time by Mirko Beljanski for his revolutionary approach to cancer; or the one experienced more recently by Seralini (see my blog Seralini – March 18 2012). In the case of the German scientists, they conclude their research paper by saying that there is no strong evidence as yet to suggest that DEHF is harmful to people and that further research is needed to determine if the compound should be banned in plastics used to process or contain certain foods.
Take control of your health. Chose a good filtration system and filtrate tap water. Invest in a reusable water bottle. Choosing bottles made of nontoxic glass or stainless steel is highly recommended to ensure your health and safety—and that goes for water and also for your cosmetics (fat molecules from creams are also known to absorb toxic plastic molecules).  Turn to oral chelation and to supplements supporting liver health that will help your body eliminate the toxic substances already accumulated.
And it is not just because I am French, but red wine may very well contain less toxins and definitively more resveratrol than water! To your health!