eHealth Radio on Pancreatic Cancer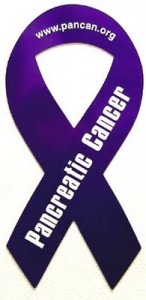 November is Pancreatic Cancer Awareness Month. The pancreas is a gland about 6 inches long that is shaped like a thin pear lying on its side. The wider end of the pancreas is called the head, the middle section is called the body, and the narrow end is called the tail. The pancreas lies behind the stomach and in front of the spine.
As Apple is launching its new Ipad, let's pause and remember Steve Jobs whom we lost to pancreatic cancer (PC) a year ago.   Although not as common as breast or prostate cancer, the American Cancer Society reports that since 2004, rates of PC have increased about 1.5% per year. The American Cancer Society further estimates that in 2012 there will be 43,920 new cases of PC and 37,390 people will die of the disease. Tragically, only 23% of those diagnosed will be alive a year after.  And the issue is not the access to treatment, or its cost. Prognosis of patients with PC is dismal, even after curatively intended resection, as observed by the American Society of American Oncology.
One reason for the often poor outlook for people with pancreatic cancer is that very few of these cancers are discovered early. Because the pancreas is located deep inside the body, early tumors cannot be seen or felt by health care providers during routine physical exams. Patients usually have no symptoms until the cancer has spread to other organs. Right now, there are no blood tests to find the cancer of the pancreas early. Because the disease is often detected in the late stages, less than 20 percent of patients with pancreatic cancer are candidates for surgery.
Another reason is that PC cells become often resistant to chemotherapy, leaving very few alternatives for successful treatment.  Gemcitabine, a chemotherapy drug has been a standard treatment for patients with advanced (and inoperable) pancreatic cancer for a decade.  But patients who received this chemotherapy drug after surgery lived only two months longer than patients who had surgery alone. This information has been validated by the final results of the randomized, prospective, multicenter phase III trial of adjuvant chemotherapy with gemcitabine versus observation in patients with resected PC.
The recent and very promising research done by KansasUniversity Medical Center offers a new hope for those diagnosed with pancreatic and other cancer types. The study done on two natural plant extracts, Pao Pereira and Rauwolfia vomitoria, first discovered by a French biologist, Mirko Beljanski, Ph.D., has confirmed that the extracts show strong anti-cancer properties.  The abstract submitted by Dr. J. Yu, J. Drisko and Q. Chen indicates that the two plant extracts serve to neutralize cancer cells even ones resistant to antimiotics (cases in which chemotherapy is considered ineffective), while the healthy cells remained undamaged. The research team also studied the behavior of the extracts when combined with chemotherapy. The synergy of action first demonstrated by Mirko Beljanski during his work as a researcher at the Pasteur Institute in Paris France, has again been confirmed on both pancreatic and ovarian cancer cells.
For the purpose of this research, the two plant extracts were provided by Natural Source International, a New York based company. The findings of this study done on extracts of Pao Pereira and Rauwolfia Vomitoria on pancreatic and ovarian cancer cells, were published in the BMC Journal of Complementary & Alternative Medicine in 2012. (June 12, 2012).[2]
This month, Dr John Hall, scientific advisor at the Beljanski Foundation and myself have been invited to discuss the recent breakthrough research on eHealthRadio. Click here and tune in!