How Beljanski became "trendy"?
What could be trendy today about a European scientist who was scorned by his peers during his lifetime and passed away fifteen years ago? Well, let's put it this way: Have the ideas of the first "green" molecular biologist finally gained political momentum?
This is a critical election year for the United States, where both candidates are presenting distinctively different programs, while having to deal with an ongoing economic downturn that leaves little room besides cutting expenses. The Affordable Care Act ("ObamaCare ") is a law that aims to improve our current health care system by increasing access to health coverage for Americans, but the Romney/Ryan ticket says ObamaCare has far too many rules, mandates, taxes, fees and fines and it has made it clear that their intension is to repeal ObamaCare. In the meantime, there is bi-partisan interest in exploring new avenues of savings.  One of them happens to be integrative medicine.
Just a few weeks ago, the Huffington Post was commenting on a recent  article  "Are complementary therapies and integrative care cost-effective? A systematic review of economic evaluations" published in the British Medical Journal Open. This critically-needed review of all cost-effectiveness studies on complementary and integrative medicine (CIM) found 28 "high-quality studies," according to lead author Patricia Herman, MS, ND, PhD. [1]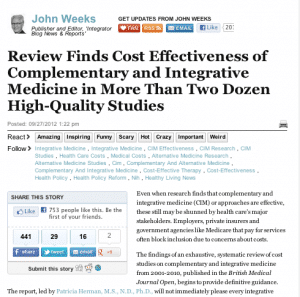 This review was global in scope and covered the years 2000-2010. Herman, an economist and licensed naturopathic doctor, first began the project with David Eisenberg, MD of the Harvard School of Public Health, in 2008. The goal was a comprehensive systematic review of economic evaluations of complementary and integrative medicine (CIM) to establish the value of these therapies to health reform efforts. As quoted by the Huffington Post Herman states: "I'm tired of this talk that there is no evidence for cost-effectiveness of complementary and integrative medicine. There is evidence. We need to move onto phase two and look at how transferable these findings are. We can take this evidence and run."
And there is certainly a willingness to run with it, as politicians see the growing interest of voters for CIM. The World Health Organization estimates that 80% of the world's population, or about 4 billion people, currently use herbal medicine for some part of their health care. Thirty percent of the US population uses herbal remedies each year. In the past 10 years the use of high dose vitamins has grown over 130% and the use of herbal supplements has grown over 380%.  As interest rises, money follows, and policies change.
Gilbert's Banner MD Anderson Cancer Center marked its one-year anniversary last month and the James M. Cox Foundation honored the milestone with a $5 million gift. The Center, which opened on the campus of Banner Gateway Medical Center on Higley Road just south of U.S. 60 in September 2011 will use the gift by the Cox Foundation to open the Cox Center for Integrative Oncology.
No wonder that there is a growing sense of urgency around the breakthrough publications by Kansas University, who  not only confirmed the anti-cancer effect on ovarian and pancreatic cancer cells of   two plant extracts (Pao pereira and Rauwolfia vomitoria) first discovered by Dr Mirko Beljanski, but also  found that the botanicals worked especially well when combined with traditional chemotherapy treatment. These very promising results provide further confirmation of Mirko Beljanski's work. The study was first presented at a recent conference held in Oregon, USA. (Anti-cancer activity of extracts from Rauwolfia vomitoria and Pao pereira: Integrative Medicine and Health, May 2012), and since published in BMC.  To learn more about these findings download the abstract of the University of Kansas study.
On September 12, 2012 The Beljanski Foundation was featured on NBC New York Nightly News. Dr. John Hall and I were on the program to discuss the results of the Kansas University study on ovarian cancer for Ovarian Cancer Awareness Month. This month there are a string of radio interviews.  Next month I am scheduled to give a lecture in Paris, France.
Of course, more studies need to be done by The Beljanski Foundation, but the prospect of natural compounds able to help fight chemio-resistant cells, and reduce the need for large quantities of toxic drugs keeps everybody excited. No doubt that work of the French biologist has finally become trendy.
[1]  http://www.rand.org/about/people/h/herman_patricia_m.html